5. The
Showroom
Photo by Eden Hawkins

Peel Eezy was the pseudo-faux creative brand and collaborative practice of Gemma Crook and Mina Heydari-Waite. The Showroom (2018) was a participatory artwork and shoppable installation that played with the ways in which artists and art organisations engage with market fundamentalism and consumer choice. The Peel Eezy project questioned the sustainability of unpaid artistic labour and ideas of participation and collaboration in a society where consumption comes first.

The Showroom launched an inaugural capsule collection of art objects priced through a 'Peel Eezy price formula' (material costs + making hours paid at living wage = PRICE). The pricing aimed to widen access to the art-buying market (the collection retailed from £4.93 - £67.49), while paying us and our collaborators the living wage (if/when objects sold out). Shop floor costs were subsidised by MAP Magazine with customer service costs complimentary (unpaid) from Peel Eezy. The Showroom's visual identity was built on four symbols that represented the principles of the project: The Hand (Artistic Labour), The Head (Customer Service), The Arch (The Shop Floor) and The Vase (The Art Object).


Photos by Eden Hawkins




The project was commissioned as part of MAP Magazine's programme for Glasgow International 2018 (we who are about to…, curated by Deborah Jackson) and was located at Savoy Centre & Centre of Contemporary Art, Glasgow.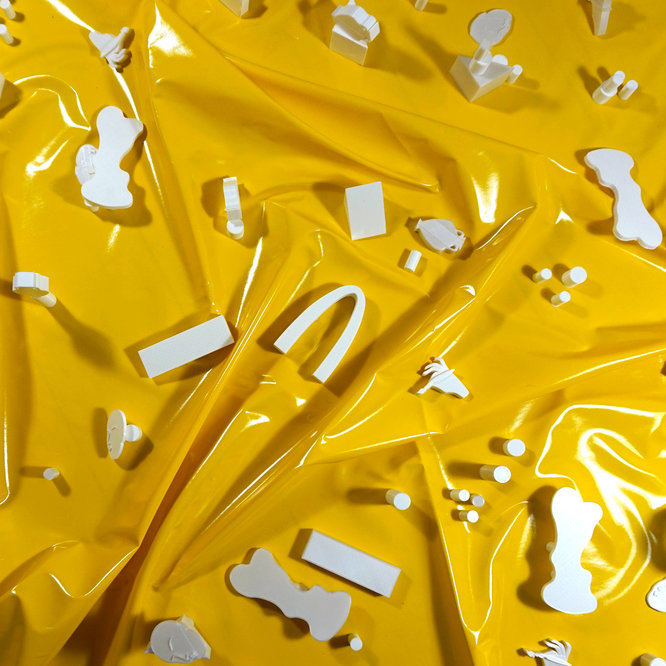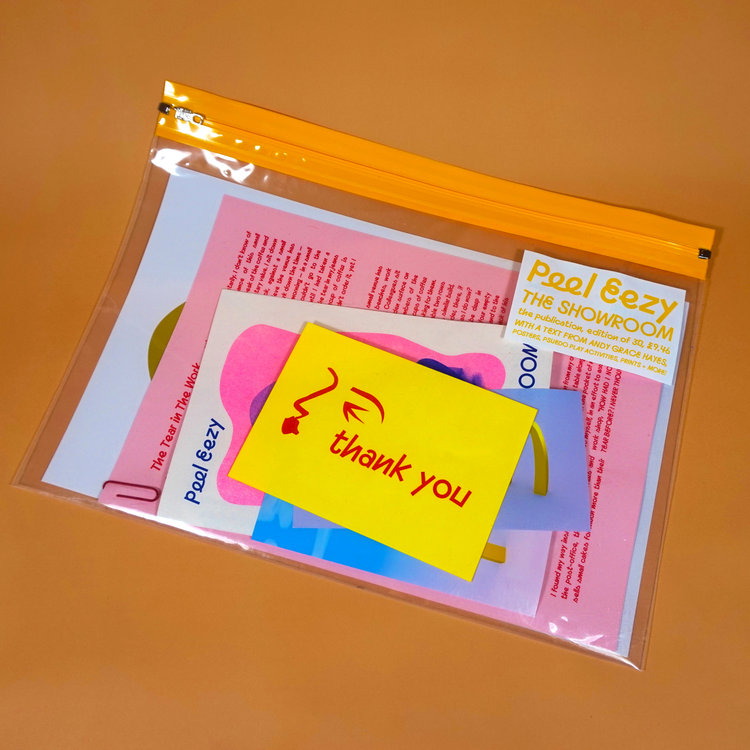 The projects Capsule Collection (pictured above) consisted of:
The Badge, wearable stoneware symbols with a red, orange, blue or pink finish, varied edition of 230, £1.11 (material costs) + £3.82 (making hours paid at living wage = £4.93 per unit
The Building Blocks, imagine your own future art institution with our 3D printed building blocks house in their own cardboard box, edition of 12, £3.70 (material costs) + £10.20 (making hours paid at living wage) = £13.90 per unit
The Font, downloadable copy of the eponymous Peel Eezy font, made in collaboration with Orlando Lloyd, edition of 30, £1 (material costs) + £12.25 (making hours paid at living wage) = £13.25 per unit
The Publication, prints, a commissioned text from Andy Grace Hayes (read the text here), posters, psuedo play activities and more, all housed in an oversized A4 plastic case, edition of 30, £6.13 (material costs) + £3.33 (making hours paid at living wage) = £9.46 per unit
The Art Object, fully functional stoneware amphora vessel forms available with red, orange, blue, pink or various au naturel finishes, varied edition of 40, £11 (material costs) + £39.38 (making hours paid at living wage)= £50.38 per unit
The Uniform, natural cotton drill artist's overall with red customer facing detail, available in small, medium and large, made in collaboration with Sarah Bell Jones, £25.27 (material costs) + £42.22 (making hours paid at living wage) = £67.49 per unit